Description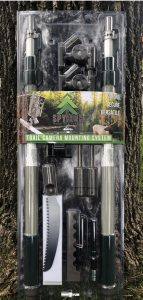 Spy High Mounting System is a new, unique way to set up your trail/game cameras at an amazing height without ever leaving the ground!  No ladders or climbing necessary!  This prevents injury and vastly decreases the chance of anyone seeing, vandalizing, or stealing your equipment in the field!
Each extension pole extends from 2 feet to 4 feet in length and when connected together enable the user to mount trail cameras up to 16 feet, depending on your height and reach, without ladders or any climbing.  The special bayonet grip tip connects poles together so they cannot twist or loosen.  Poles easily adjust in 6″ increments and lock securely in place.
Tree Attachments click onto extension poles and easily screw into tree at desired location of camera with a few turns of the pole(s).  Tree attachments are made of "Nylon Super-Tough" material and are virtually impossible to destroy, crush, or deform.
The Camera Mounting Platform simply screws into the back or bottom of your trail camera (depending on which brand of camera you have), and then clicks onto the end of the extension pole.  The mounting platform is equipped with a rubber ball which enables the mount to easily rotate and adjust the camera. The Universal Camera Mount is also included, which ensures that no matter which type of camera you have, it will be able to easily attach to our mounting platform.   Both the Camera Mounting Platform and the Universal Camera Attachment are made out of "Nylon Super-Tough" material.  The Universal Camera Attachment also includes 2 Bungees that will hold camera in place, helping to ensure proper placement onto our mounting platform (if UCM is needed with your brand of camera).
Also included is our Laser Bracket (which includes green-point laser pen).  The laser bracket snaps right around the end of our extension pole and holds the laser pen, which allows proper placement of camera lens so that you can capture pictures in the desired location.  The green laser will show up on the ground which will guide you to the proper adjustment of the Camera Mounting Platform (using extension poles).  The laser light you will see on the ground will show you exactly where your camera is aiming to capture great pictures. Make sure you turn on the laser pen (by rotating/spinning the pen) before lifting with pole to adjust camera in tree.
Instantly switch to our saw blade attachment (to clear away obstructions) with one click and remove branches and debris from direct view of the camera.  This will avoid any unwanted pictures.   Easily remove by pushing on the fiberglass-reinforced nylon lever. Please use care in attaching and removing the sawblade from extension poles to avoid any harm.
This system includes 2 camera mounts, 2 tree attachments and a drill driver, which allows you to use a drill to screw the tree attachments into the tree.